Hi everyone!  There are so many great sales coming up this weekend (some have already started!), so I thought I'd give you a peak at a few of the sale items I've been scouting.
Since we're well into autumn (even if it doesn't feel like it outside!), this is the perfect time to add to your cool-weather wardrobe.
You can also check out my post on Must-have Fall Trends for more inspiration.
As an added bonus, I'm giving you a sneak peak at one of my favorite looks from next week's blog post at the bottom. It's on sale for 33% off right now and it's so pretty!
MACY'S
Macy's is having an extra 25% off sale through this Sunday (even on already reduced items!) with Promo code FRESH.  That means that the brands you've been eyeing can be acquired at a deep discount.
Here are my picks from the Macy's sale, starting with Free People, because I cant even believe the great prices they are offering right now!
All photos are click-able, so you can shop straight from the post.
Free People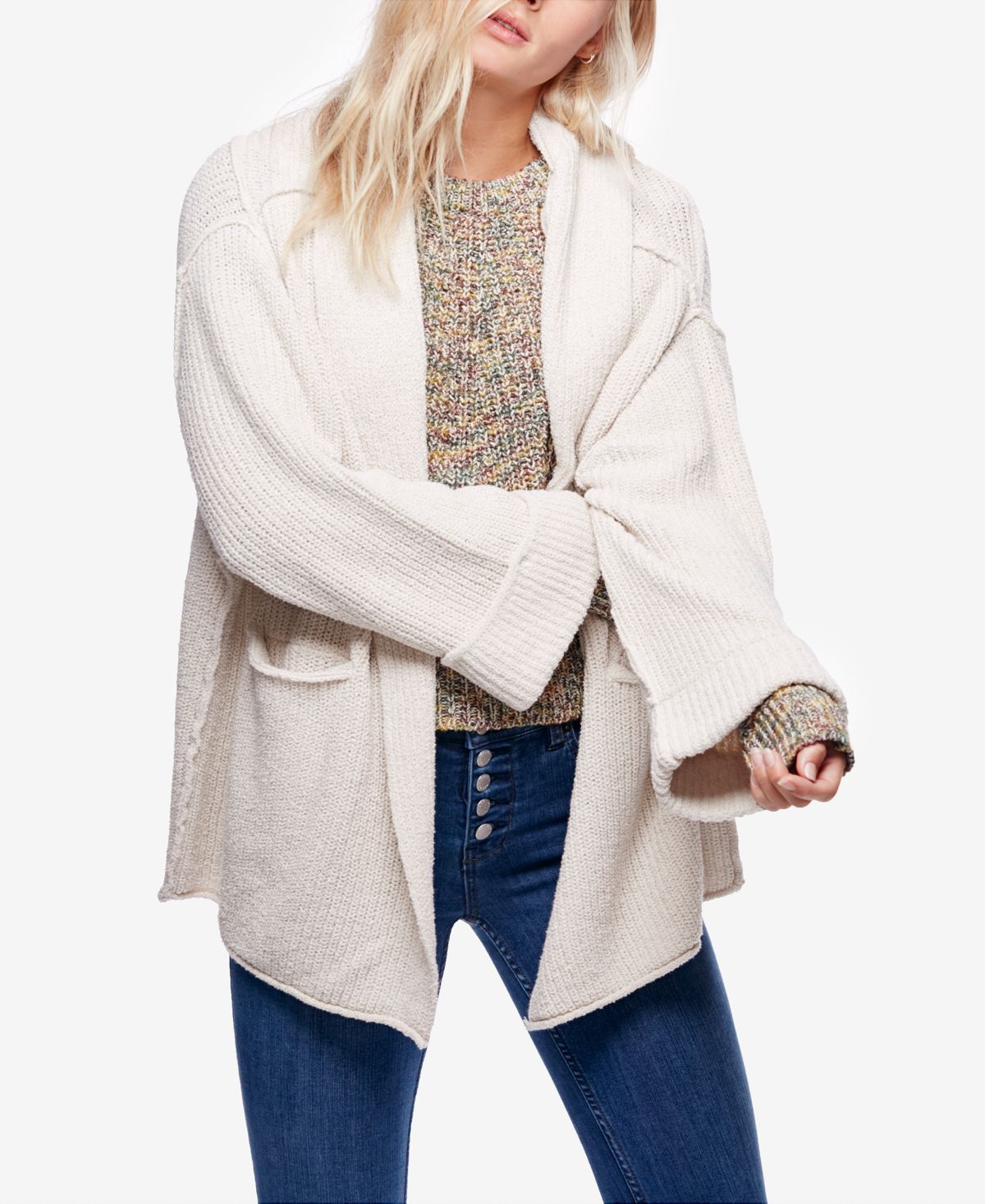 This Free People Shawl-Collar Duster Cardigan took social media by storm last year–and for good reason.  The effortless fit, cozy draping and loose-fitting sleeves make it the perfect layering piece.  Two of the three colors are already on sale, so with the extra 25% off they are now priced around $50!!  This is one cardigan you will keep reaching for.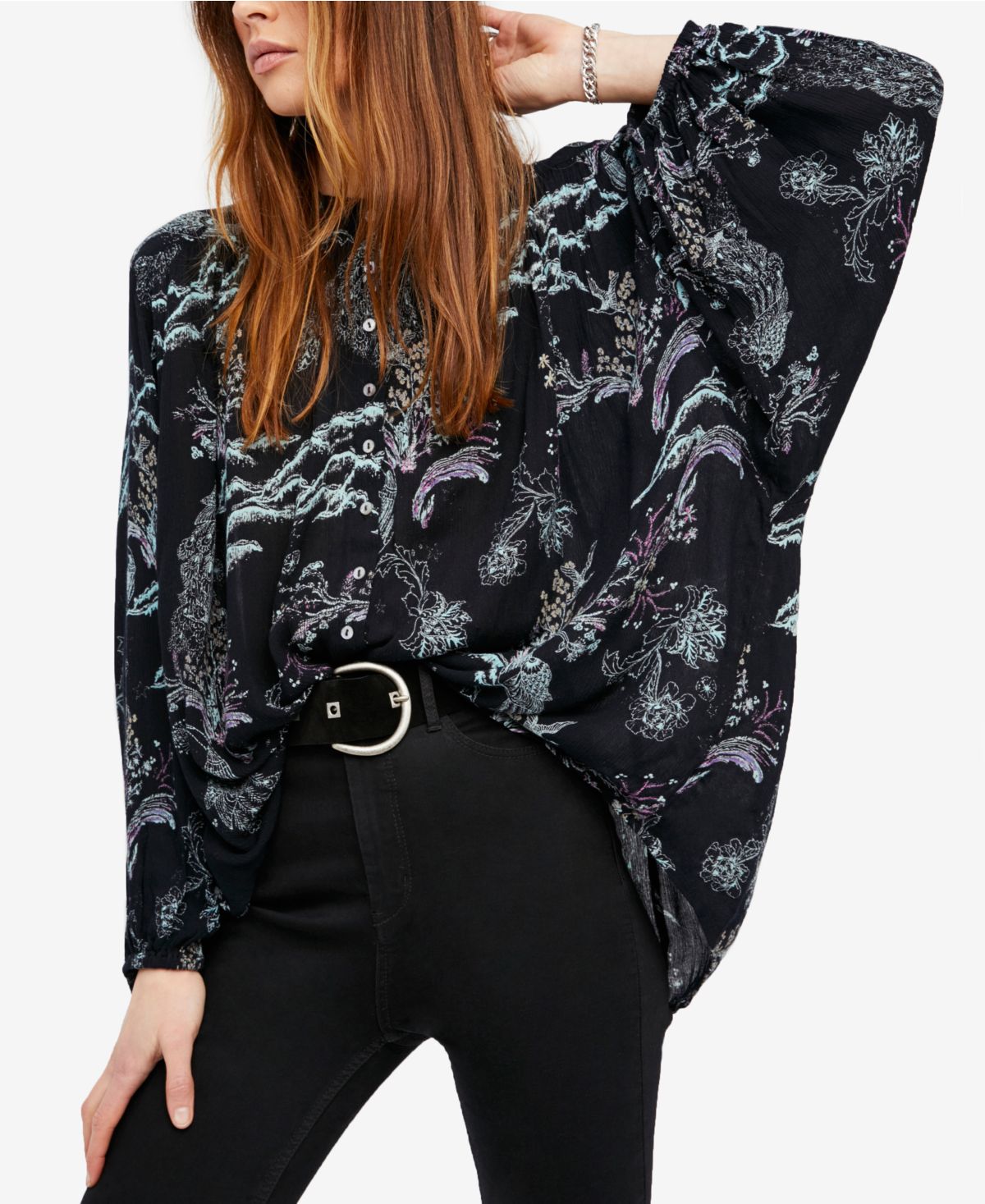 This gorgrous floral Free People blouse comes in three colors and is now marked down to under $42.  It's longer length makes it a great option with leggings, and can either be tied or tucked in the front for a pretty boho vibe.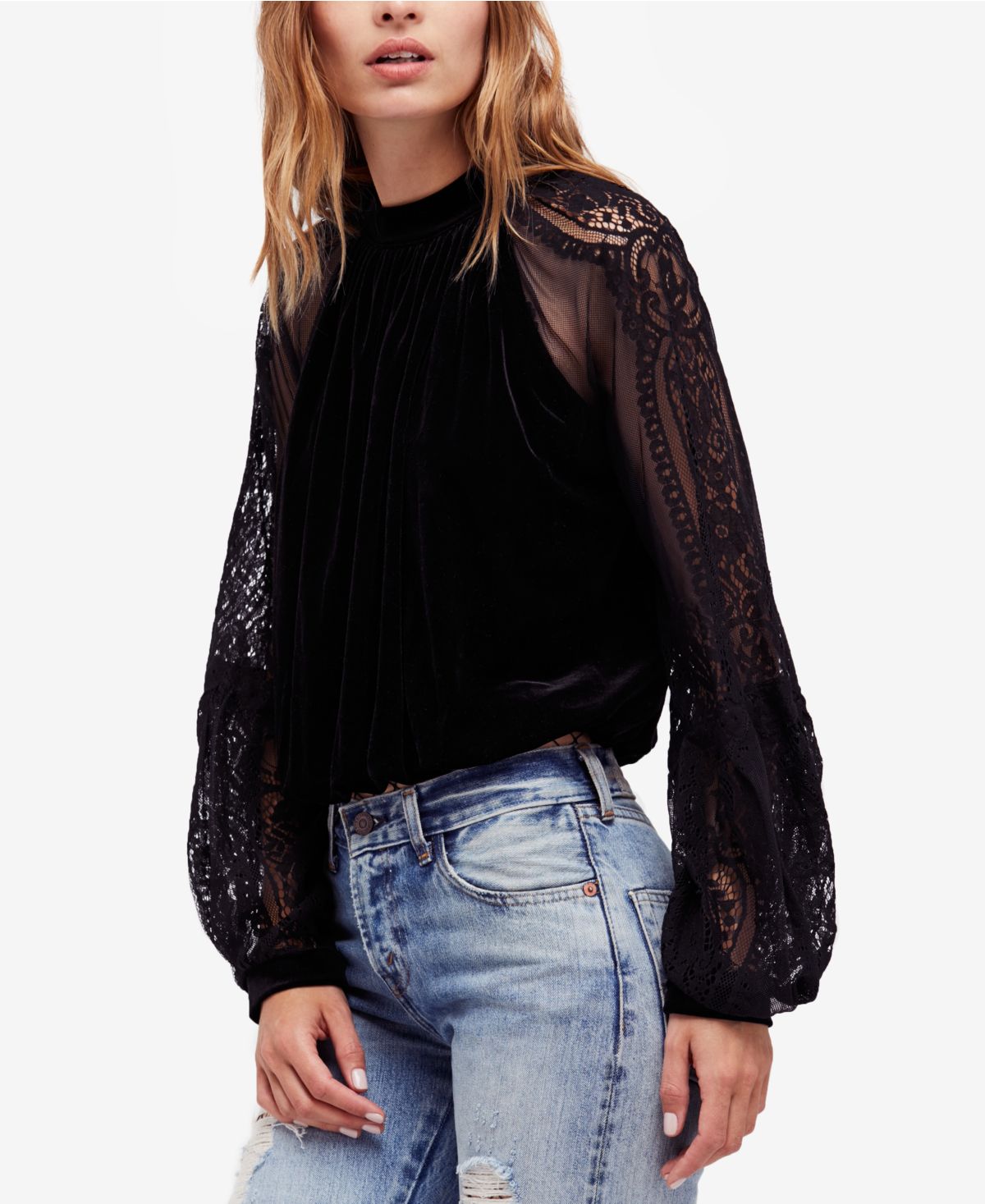 For those of you looking ahead to the holiday season, this Free People Velvet top would be the perfect pick.  It comes in both black and raspberry and has the most gorgeous mesh and lace peasant sleeves.  I love the mock-neck, too!  This one would look so pretty with jeans and heels or with a holiday skirt. If you are jumping on the leather skirt trend…this top should be yours!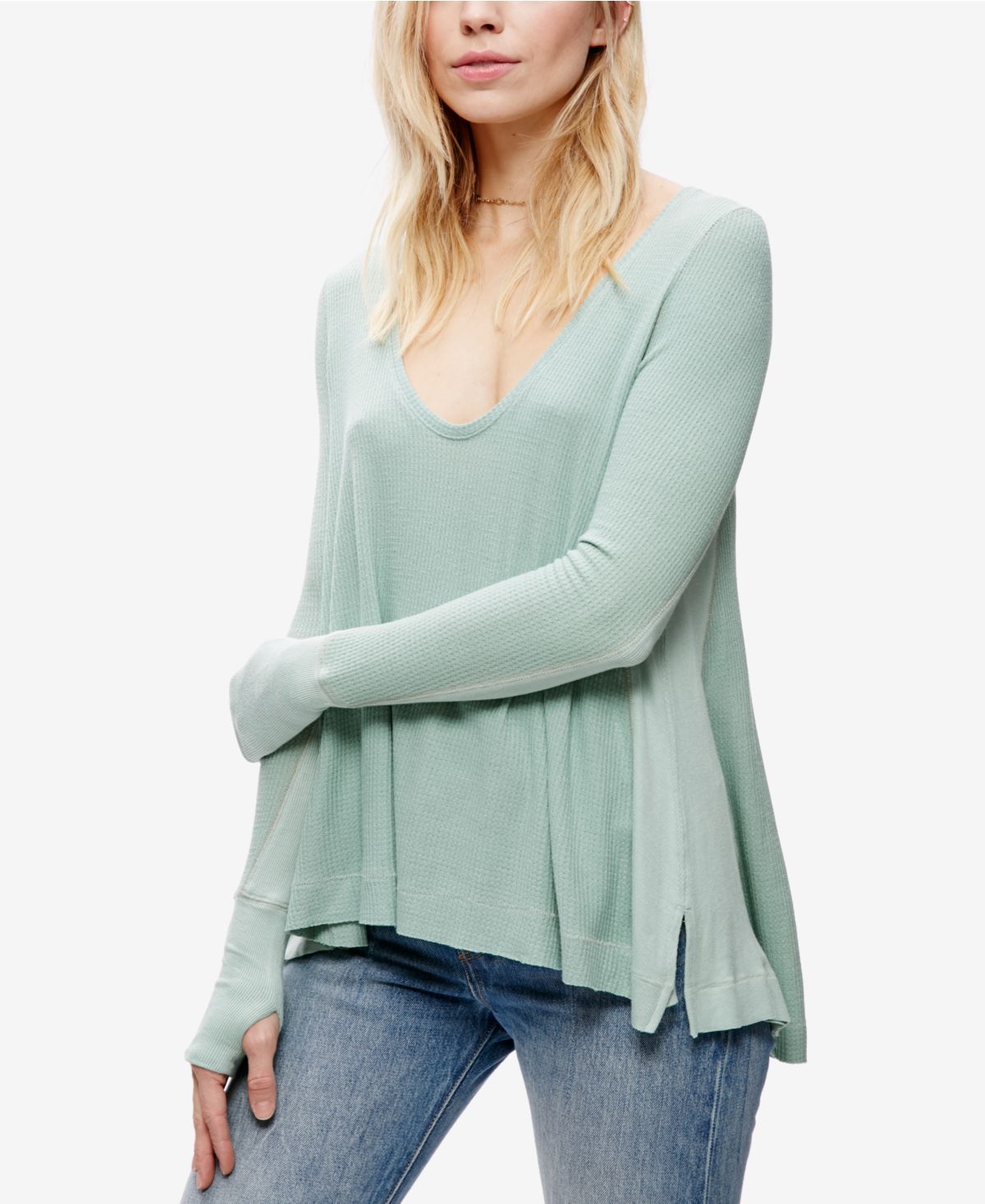 This Free People Thermal was my go-to weekend top last fall, and I'm so happy it's back.   Free People makes THE BEST thermal tops for style and comfort, and if you haven't tried one yet, grab this one.  It even has thumb holes to keep your hands warm!!!  I would size down on this one; it runs large.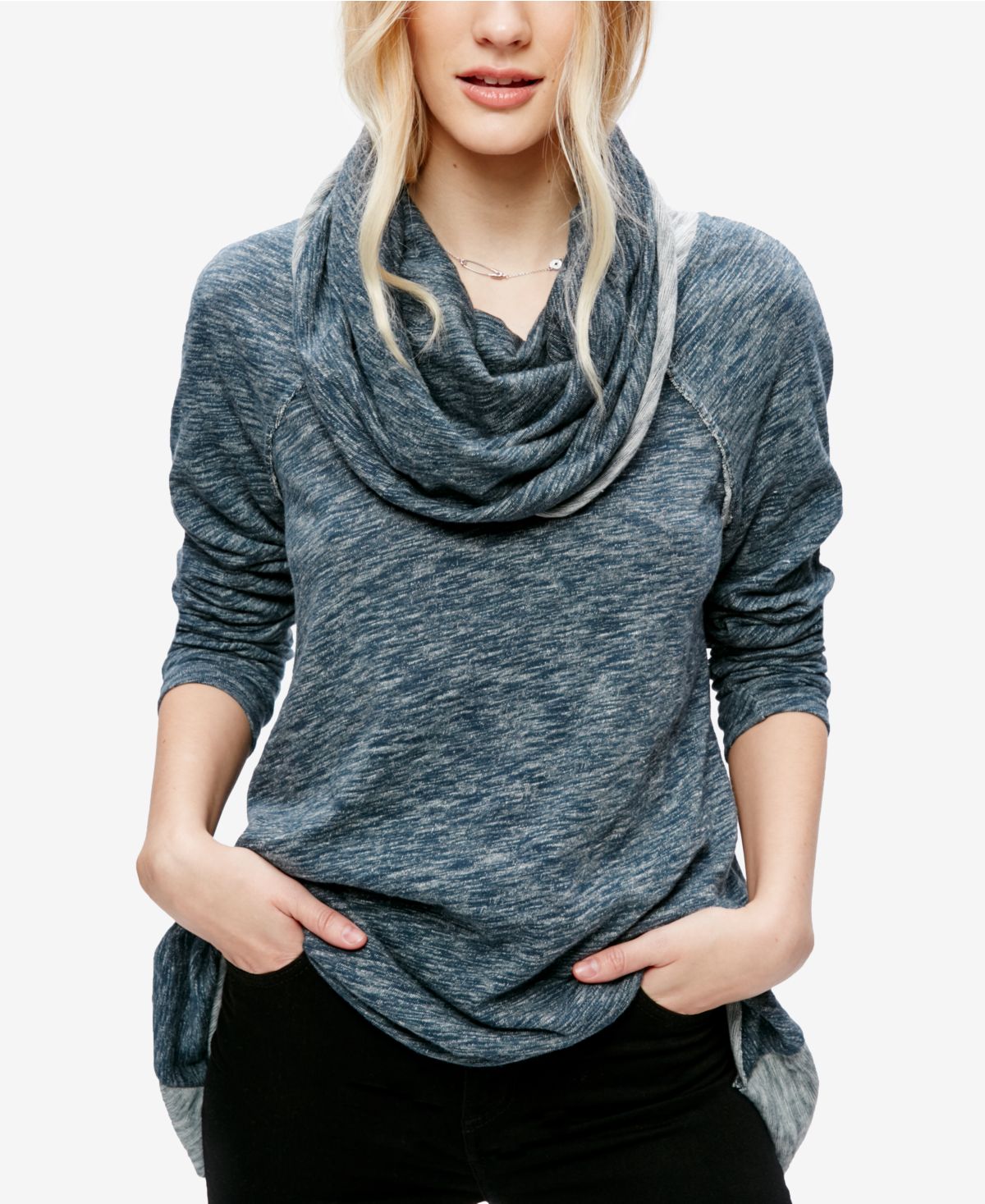 If you've been following my blog for a while, you know that cowl necks are my favorite neckline.  Their drapey look is just so pretty and versatile, plus non-constricting.  This one from Free People is now marked down to $51 with the code FRESH and comes in 4 colors.  LOVE!
More Sale Picks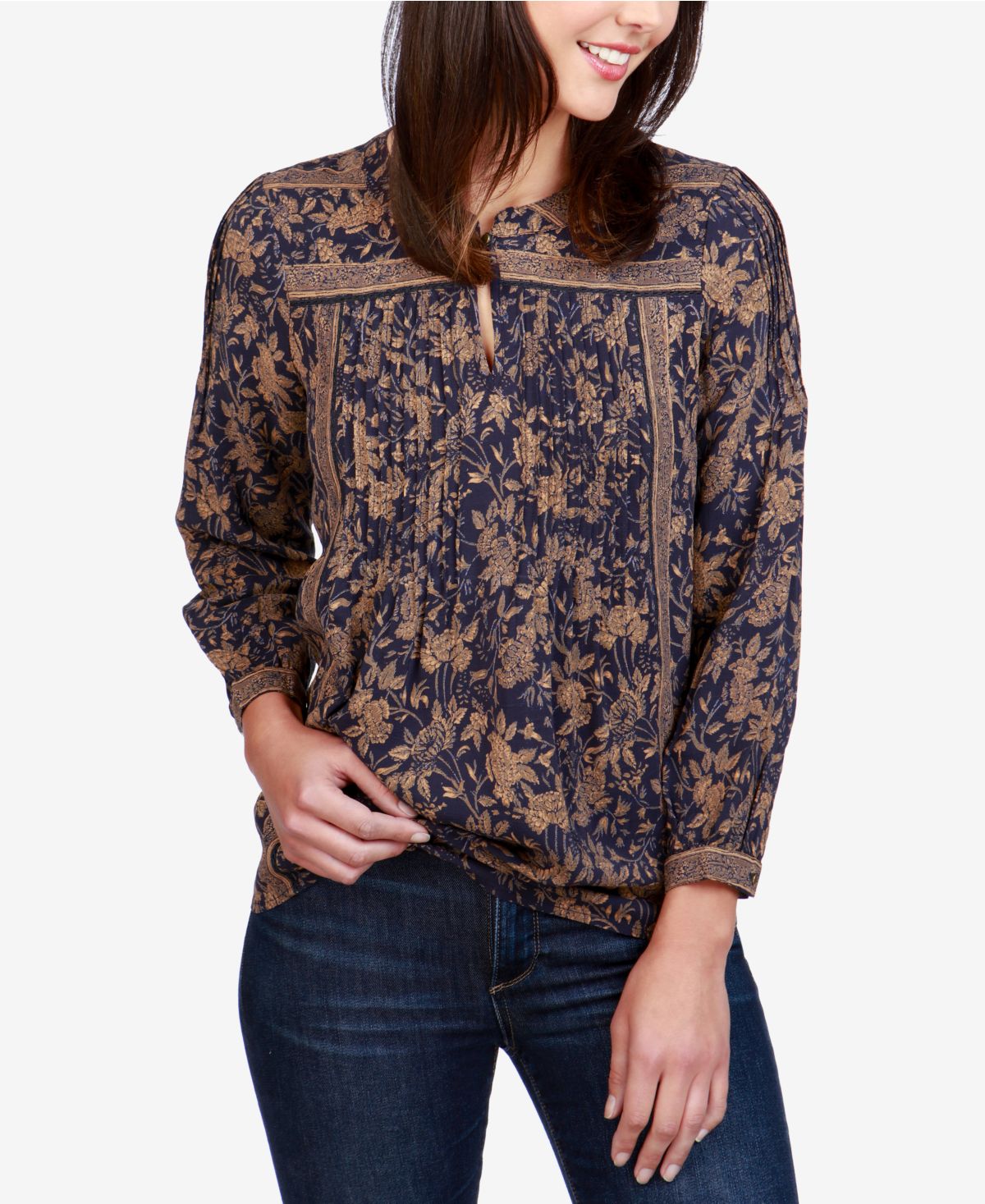 How gorgeous is this Lucky Brand pintucked top?! The navy and gold floral print and the keyhole detail make this a great option for fall with blue jeans or slacks.  I also love that the sleeves leave just enough room to show off a pretty statement bracelet!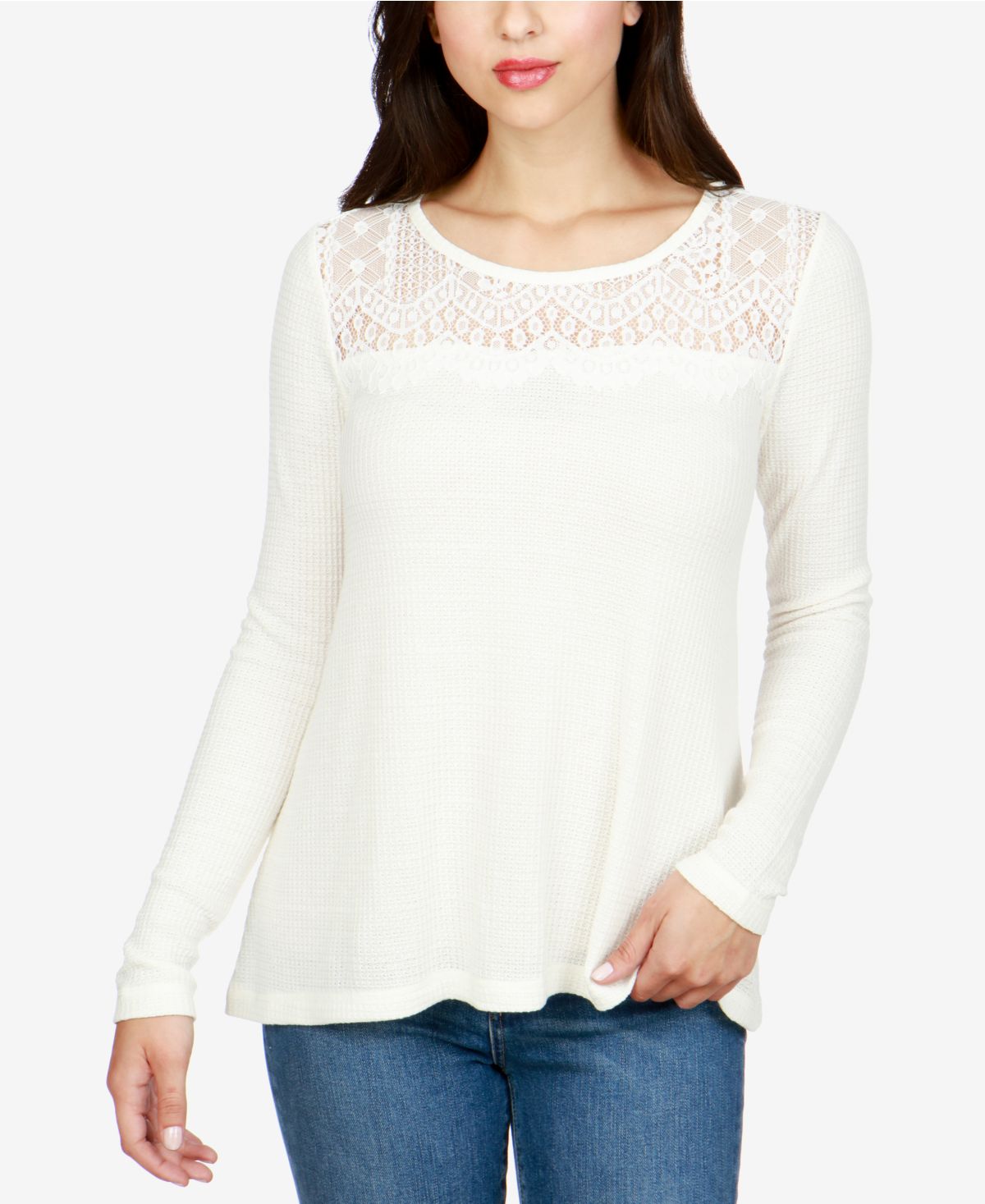 This Lucky Brand lace trim thermal top comes in 6 colors and now on sale for under $30 with code FRESH.  Thermal tops are so big this season and the lace detail offers a feminine touch to this wardrobe staple.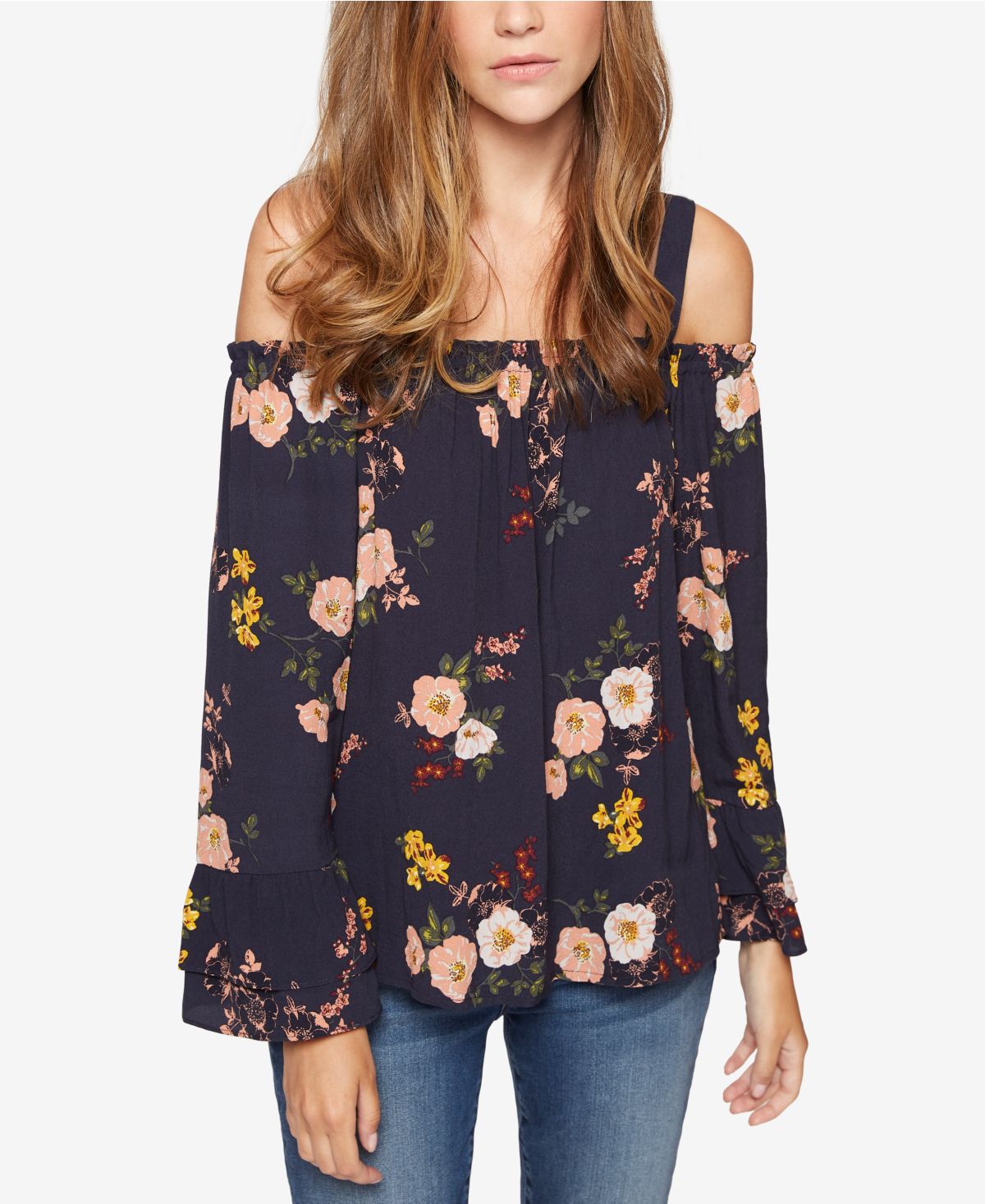 This Sanctuary off-the-shoulder top comes with straps so you don't have to keep adjusting your top if you layer it under a cardi on cooler days.  I love the length and the print of this one, not to mention the ruffle detail on the sleeves!  Super cute and under $50 with code FRESH.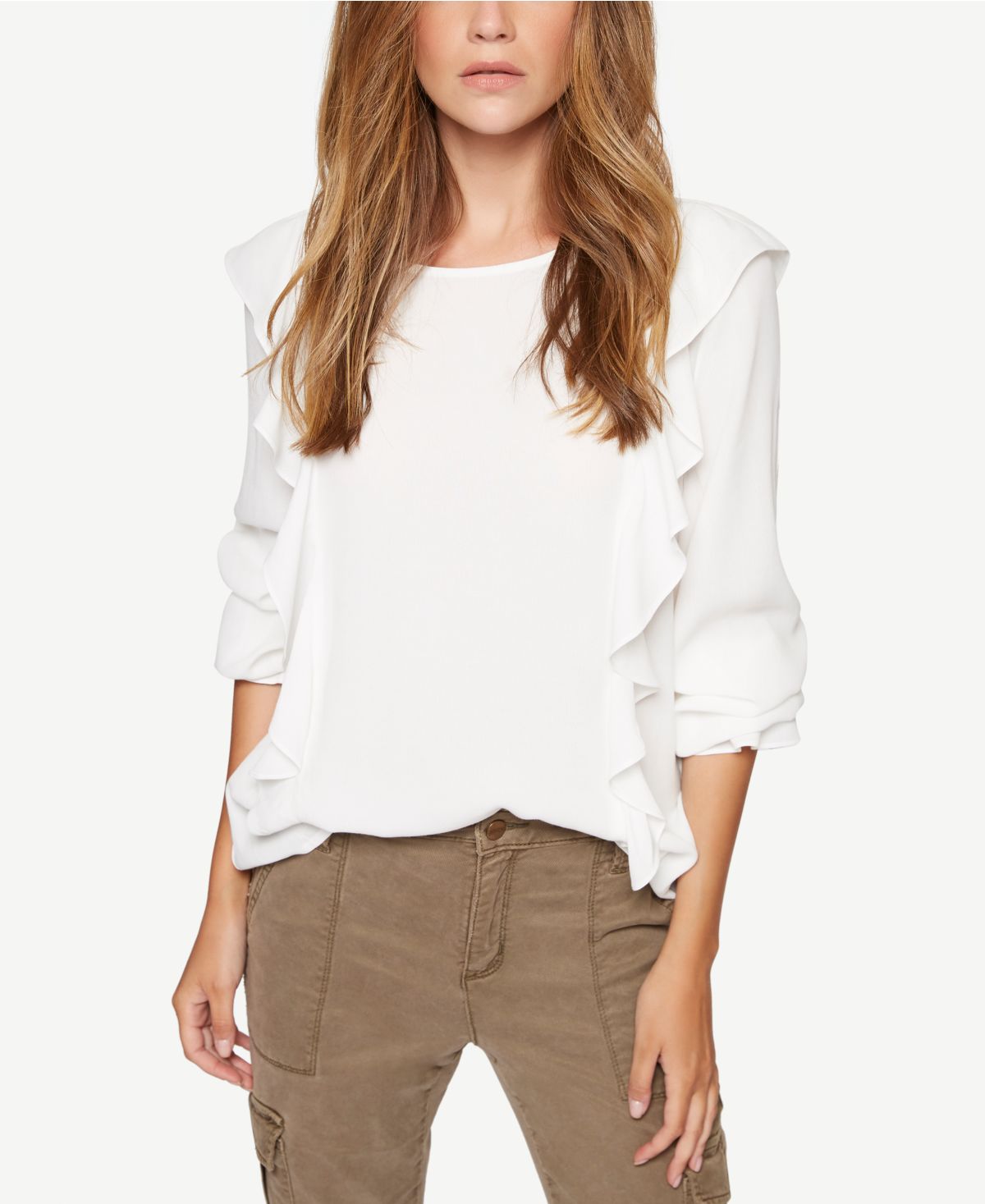 This delicate Sanctuary blouse  has the prettiest ruffle details.  This blouse is a great way to dress up distressed denim, or can be layered under a blazer for a chic look.  Plus, with the sale it's under $45.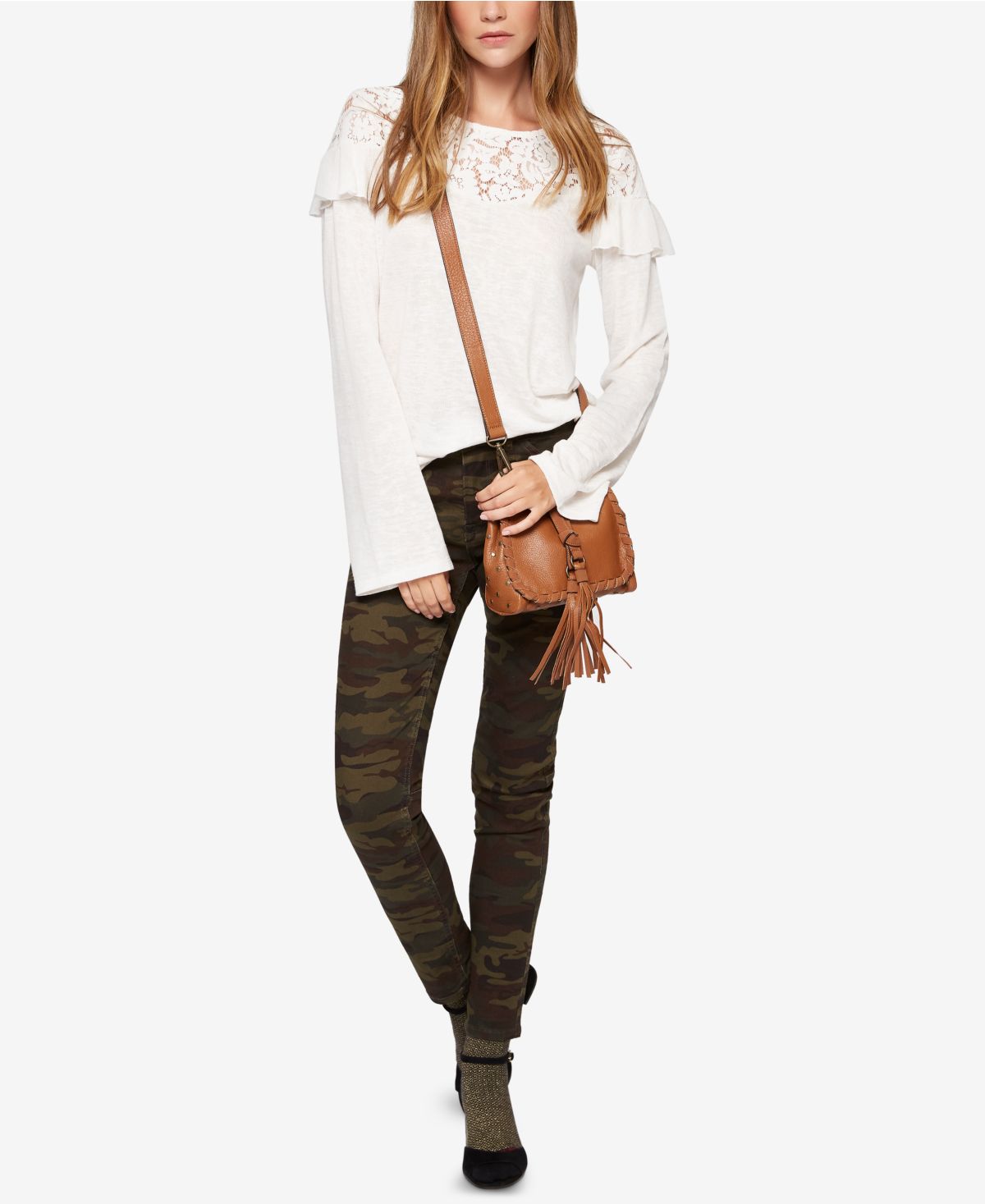 This Sanctuary top offers some of fall's hottest trends with ruffle sleeves and a lace yoke.  I also love the key-hole at the back.  It's now marked down to under $45 with sale code FRESH.
Sneak Peak!
As promised, here is a sneak peak at one of the looks from next week's post.  You might have seen it on my Instagram or Facebook page this week, and since it's on SALE for 33% off, I thought I'd give you the shopping details today!
Faux Fur Vest (on sale!)// Tunic (on sale!) // Jeans (on sale!)// similar Leopard Flats // Clutch Purse // Cuff Bracelet // Earrings
A few quick notes about this look:
This vest is seriously LUXURIOUS and it's now 33% off, making it under $100!  These jeans are literally the BEST black jeans I have EVER owned and they are also on sale for 33% off.  Lastly, the white tunic I'm wearing underneath is one that I own in 3 colors because it's THAT GOOD.  Oh, and it's also 33% off!  More details to come next week.  Stay tuned!
Weekend sales you can't miss:
I hope you find several items that you love on sale this weekend.  Don't forget to SUBSCRIBE TO MY BLOG for more sale updates and style inspiration.
Thanks for stopping by! See you next week!
Other posts you might enjoy: